Graphical
Installer
for
Inno
Setup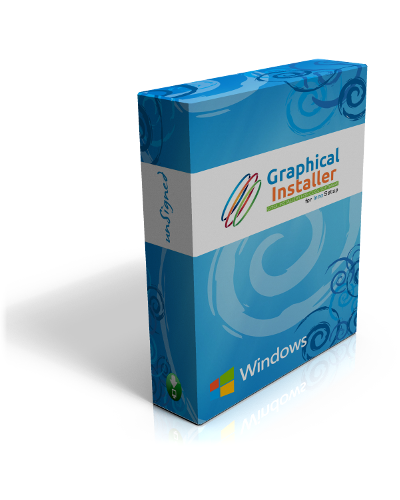 Professional extension for Inno Setup install system which allows You to change the design of whole installer. It is also possible to create installers with irregular shape (Part of window can be fully transparent).
Key Features:
Fully customizable graphical interface

It's possible to change graphic look of whole installer - background picture, icons, buttons and more! See the list: custom picture for installer background - Jpeg, Bitmap, or Gif file custom icons - Installer/Uninstaller/... custom picture for buttons - Next/Back/Cancel/Browse/... custom picture for scrollbars - License/Readme/... custom color for texts - Headers/Labels/Links/Static texts/...

Creating installers with irregular windows

Part of window can be fully transparent - you are no more tied to rectangular shape!

Easy integratable to existing scripts

All you need is to add references to installer's script, no hard-coding is necessarry!

Templates and examples for instant start

We provide many templates and examples, so your installer can be finished in few minutes!

Graphical Installer Wizard for creating new and converting existing scripts

Plug-in/standalone application for various IDE for fast creating scripts with custom design.

Full compatibility with other plug-ins and functions

This product use the same core as traditional installers - so there is no difference in writing scripts!

Custom dialogs and interfaces

Thanks to its nature it is easy to add custom wizard pages and elements to them (TextBoxes, CheckBoxes ...).

Support for multiple languages (also Unicode languages)

Fully multilingual support (including RTL languages) in one installer.
Detailed product website with a lot of information is located at www.graphical-installer.com.
Visit it for more details and to see a list with all Features and detailed screenshots. Also you can download Free Trial version or see Changelog for most recent changes.
Product gallery: